We have lots of fun things going on for Homecoming Week January 10th-15th. We have dress-up days every day of the week.
Thursday evening we have a dodgeball tournament at the new gym starting at 6 pm. The community and parents are welcome. We will have a small concession and admission will be $2. If you would like to sign a team up for the tournament, money and rosters are due to Mrs. Armstrong on Tuesday, 1/11/22. Teams will consist of 5-8 players, adults, or current High School students.
Friday, we will have a pep assembly at 12:45 at the new gym. The homecoming ceremony will begin at 5:45 pm.
Saturday, Homecoming Dance 7 pm-11 pm in the Tigers Den. The cost is $10 per person sponsored by the Union City All Sports Booster Club. Tickets can be purchased from Mrs. Roberts.
Volunteers Needed all of the events take many people to coordinate, decorate, clean up, and chaperone. Please email Mrs. Armstrong if you are available to help at any of the events happening this week. w.armstrong@unioncity.k12.ok.us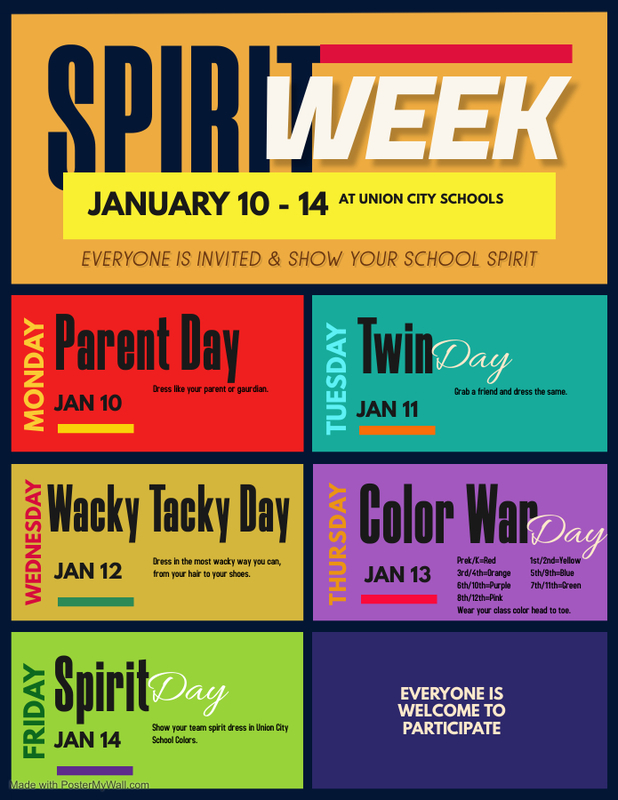 ---